May 26, 2023
Welcome to the bi-weekly Diamond Pigs newsletter.
The Market
The market has remained in a range between $26,000 and $31,000 since mid-March, which is a span of over two months. As of now, Bitcoin is trading towards the lower end of that range at $26,800. This indicates a period of consolidation and lack of significant upward or downward movement in the Bitcoin market.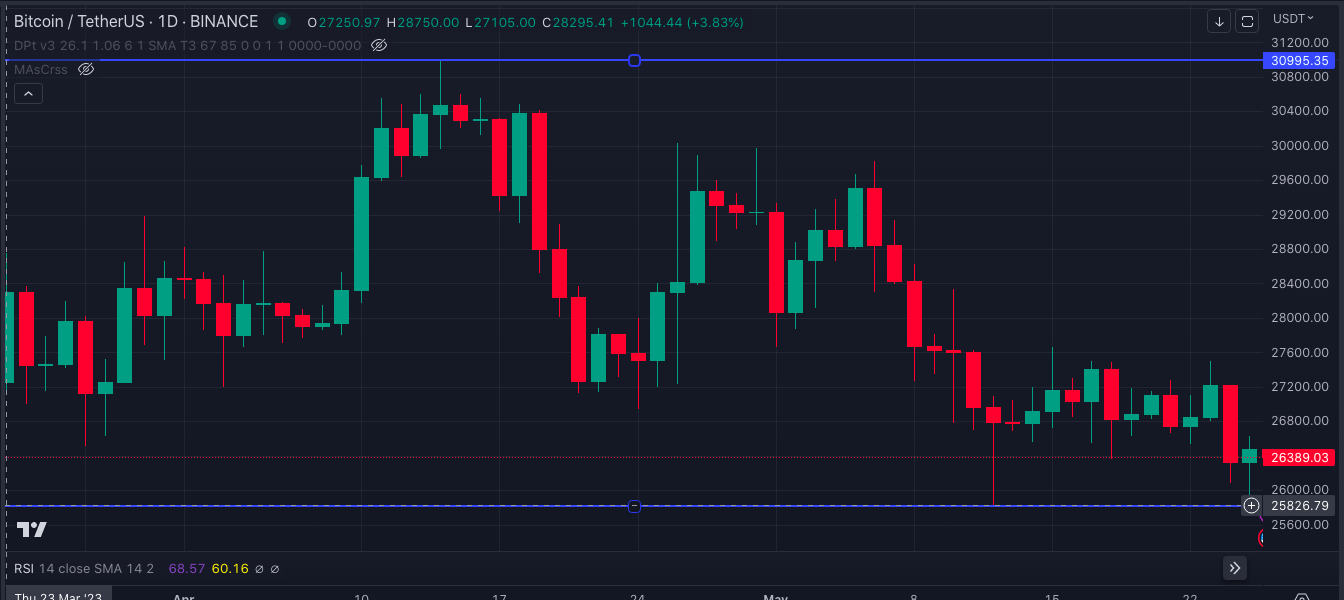 The Bitcoin Dominance, which represents the market capitalization share of Bitcoin compared to other cryptocurrencies, has shown little change during the same period. It has fluctuated within a range of 46.7% to 48.9%.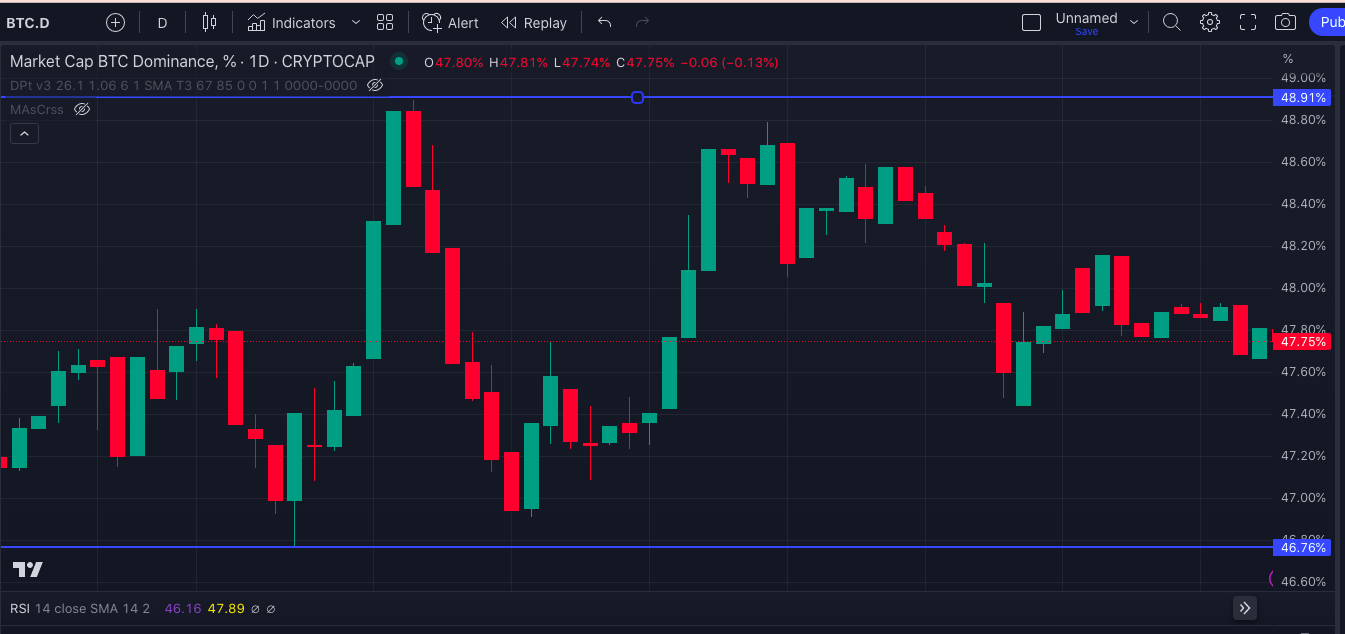 When observing the BTC/ETH chart, one can see that Ethereum has reached a 9-month resistance level. However, it appears as if the trend may start reversing. If the reversal happens, it could lead to a potential downward movement in BTC dominance, which, in turn, may create opportunities for altcoins to exhibit strength and gain traction in the market.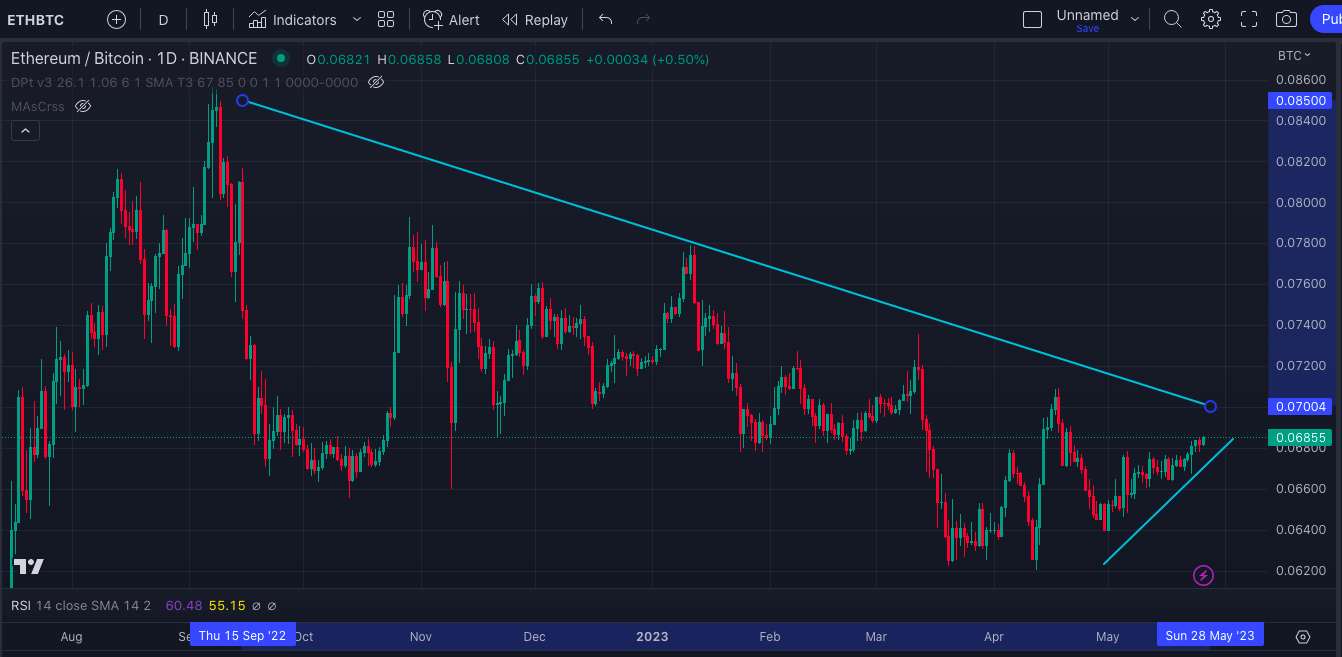 The recent period of relative quietness in the market has had an impact on the performance of all our strategies. Most of our active strategies are currently positioned in stable coins or EUR. A few long positions have been taken in select coins that have shown relatively strong performance lately.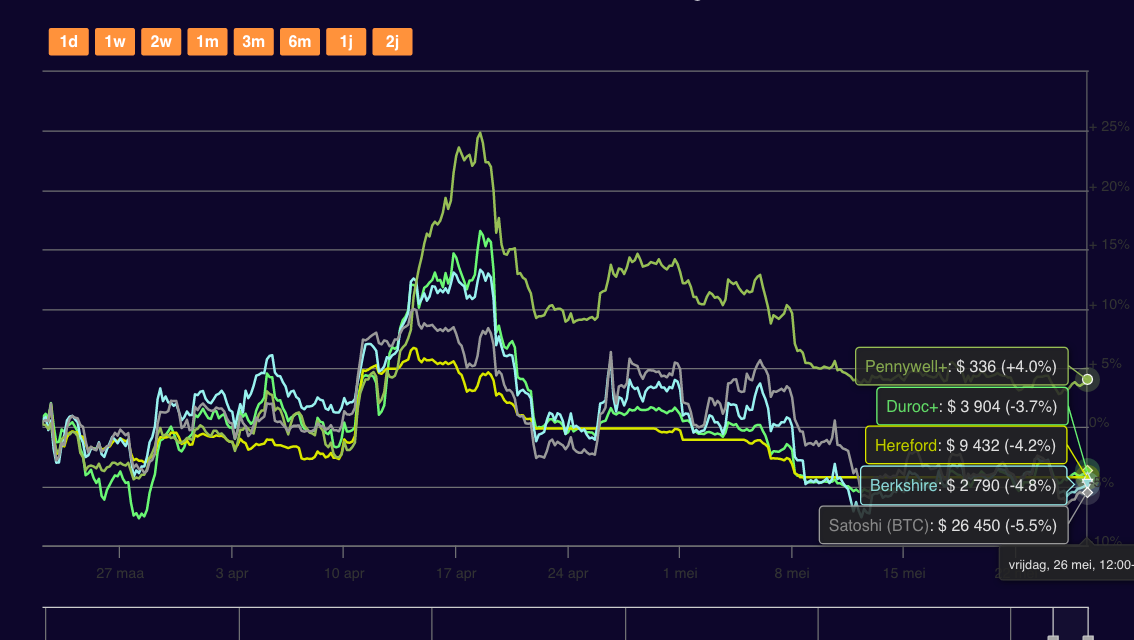 Below are some key events that are likely to impact the cryptocurrency market in the coming weeks:
The U.S. debt ceiling is set to expire on June 1st.
The debt ceiling serves the purpose of controlling government borrowing, ensuring it remains within a predetermined limit. However, on June 1st, the debt ceiling is set to expire, imposing restrictions on the US government's ability to borrow additional funds for its operations. This situation presents a challenge as it could limit the government's capacity to meet its financial obligations. If Republicans and Democrats fail to reach a deal, the unlikely scenario of a US default may arise. During such uncertain periods, investors may seek alternative stores of value like gold and Bitcoin as a safeguard against potential economic instability."
Hong Kong Lets Retail Investors Trade Crypto.
From June 1, Hong Kong retail investors will have the opportunity to trade major cryptocurrency tokens as a new virtual-assets regime begins. The CEO of Binance, CZ (Changpeng Zhao), mentions that the Chinese-speaking communities are excited, and historically, news coverage like this has resulted in bull runs in the crypto market. It remains to be seen how this development will unfold and whether it will indeed have a positive impact on the market.
June 5th: Apple WWDC 2023 event & $RNDR .
The Apple Worldwide Developers Conference (WWDC) is an annual event that showcases Apple's latest software updates, platforms, and technologies across its range of devices. Anticipation is high for this year's event as Apple is expected to unveil its new VR headset and make its entry into the exciting world of the metaverse. Notably, the Render network (RNDR token), an official Apple partner that offers decentralised rendering services, is poised to play a crucial role in Apple's metaverse ecosystem. As a result, the RNDR token has experienced significant price movements recently. In this article, you will delve into the Render network and explore its partnership with Apple, gaining valuable insights into their collaborative efforts."
Currently, the RNDR token is being held in a long position within the Duroc and Pennywell strategies.
June 13th: CPI – will impact FED decision.
On June 13th, the May US Consumer Price Index (CPI) figures are scheduled to be published. The majority of the financial world (60% as of today) is currently anticipating a 25 basis points interest rate hike in the upcoming Federal Open Market Committee (FOMC) meeting, which takes place the day after the CPI figures are released. The probability of a 25 basis points increase is gradually growing each day. As is typically the case, high volatility is expected in the period surrounding the CPI figures and the FOMC meeting as investors react to the economic data and speculate on potential changes in monetary policy.