July 13, 2023
Welcome to our biweekly newsletter. Here, we provide a recap of the most consequential events in the global market, the cryptocurrency landscape, and within Diamond Pigs
The Market
Recent robust US labor market data indicates that core inflation might remain above the Federal Reserve's 2% target. Wall Street expects the Fed to raise interest rates in response. However, before any rate hikes occur, the Consumer Price Index (CPI) reading is scheduled for this Wednesday. It is worth noting that in the days before and after the CPI release, the market often becomes more volatile and at the same time, provides insights into the direction the market will take in the coming period.
The Crypto Market & Our Strategies
The market has been trending sideways for the past three weeks, with our strategies following suit. Strategies like Pennywell and Duroc, which predominantly trade in altcoins, are exhibiting slightly weaker results compared to others like Hereford that solely invest in Bitcoin or Berkshire –  the top 10 index.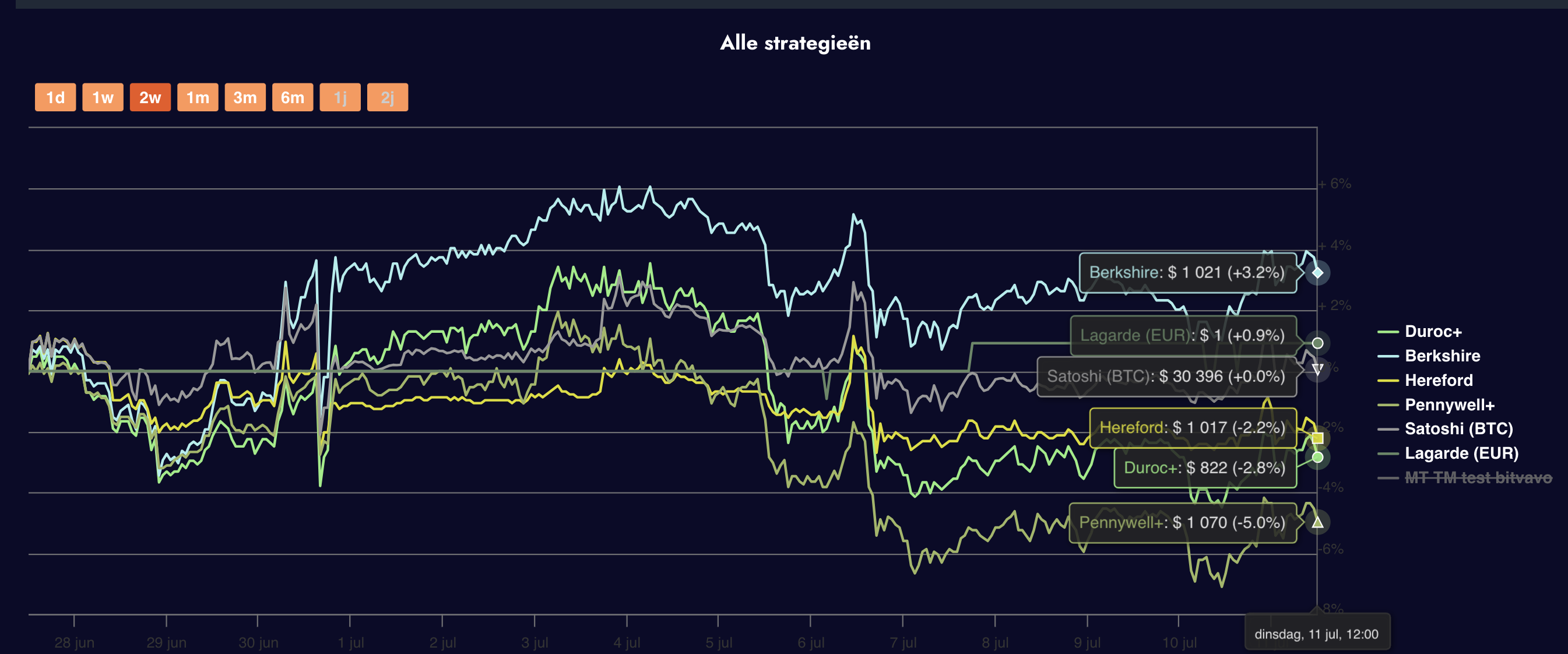 For almost two years, the market has either been stagnant or in a bearish phase. We've all been awaiting that decisive moment to kick off the next bull run. Although no one can predict when and what will trigger this upcoming surge, several indicators are emerging that hint at a positive shift. These include declining inflation trends, China's openness towards cryptocurrency, evolving regulations in Europe, and the submission of Bitcoin ETF applications by some of the world's largest financial institutions. These indicators could suggest that the toughest times are behind us and that we might be on the brink of a new bull cycle.
What's New In Diamond Pigs
From Market to Limit Orders
The team has successfully completed the transition from using market orders to limit orders when executing trades for all our Binance, Bitvavo and Huobi users. The switch to limit orders reduces the average trading fee from 0.7% to 0.1% and enables us to deploy new bots types that respond rapidly to price movements. For now, limit orders are applied when the bots take a position, not when you change strategy yourself.
New Bots
Based on what we've learned over the last 1.5 years, and with all trades now using limit orders, we're adding more bots to our active strategies (Pennywell, Duroc, Hereford). These new bots can quickly react to changes in price, which helps us get better results. We are confident that by combining our current bots with the new ones, and with the potential enhancement of future AI technologies, we will be able to deliver strong results.
Gascon's New Active Strategy: The Crypto Giants BTC and ETH
The combined dominance of BTC and ETH is on the rise, currently representing a staggering 65% of the total crypto market. In response to this, we've decided to implement a new active strategy focused solely on Bitcoin and Ethereum. This strategy will be driven by our innovative and responsive bots, both lagging and leading. Here's how we describe the new strategy: "Powered by our advanced SYNAPSE™-bot technology, Gascon focuses exclusively on trading BTC and ETH. It offers protection from abrupt price downturns and locks in profits after substantial gains. Opt for Gascon if you're seeking exposure to the two leading cryptocurrencies while benefiting from a layer of protection"
Gascon is currently in its final testing phase with a select number of users and will be introduced to our broader user base in the coming days. A separate notification will be dispatched in due course to keep you informed. 
Final Call For Remaining Binance Users
For all users residing in the Netherlands who still have assets on Binance, please be aware that we have not yet relocated all your assets to BTC, but we intend to complete this transition by tomorrow. This action is intended to assist you, considering that trading on Binance will be prohibited after the 15th. Our goal is to ensure you maintain a common asset (BTC) during this change. In addition, your management button will be deactivated within the next 48 hours.
If you are interested in continuing to collaborate with us, we can provide our services through the Bitvao or Huobi exchanges. For your guidance, we have prepared an instructional video explaining the steps to follow. Please use the link provided to access the tutorial.