The Market
The month of February has been marked by a highly volatile market, with much more sideways trends compared to what was seen in January. This can be attributed to both macroeconomic factors and ongoing crypto-related events.
It's fascinating to see how news and rumors regarding the legal status of cryptocurrencies in different countries can have a significant impact on the market. The potential legalization of crypto trading in Hong Kong could attract a lot of investors from the east and further fuel the growth of the crypto market. This recent announcement has provided a boost to the crypto market, helping it to recover from a minor correction observed in the previous week.
After falling to a low of $21.5k, Bitcoin rebounded and reached around $25k, but it corrected once again. This correction was mainly due to the rising fear of a more hawkish approach from the Federal Reserve in the coming period. At present, Bitcoin is trading at 23.5k levels. Assuming the current upward trend persists and Bitcoin surpasses the $25k level, there is a chance that it could reach $28k. However, it's worth noting that the $25k level has been invalidated on five consecutive occasions, which could indicate the potential for a more significant correction. Furthermore, the Bitcoin Dominance index has stabilized, and numerous altcoins have recently achieved new highs for the year.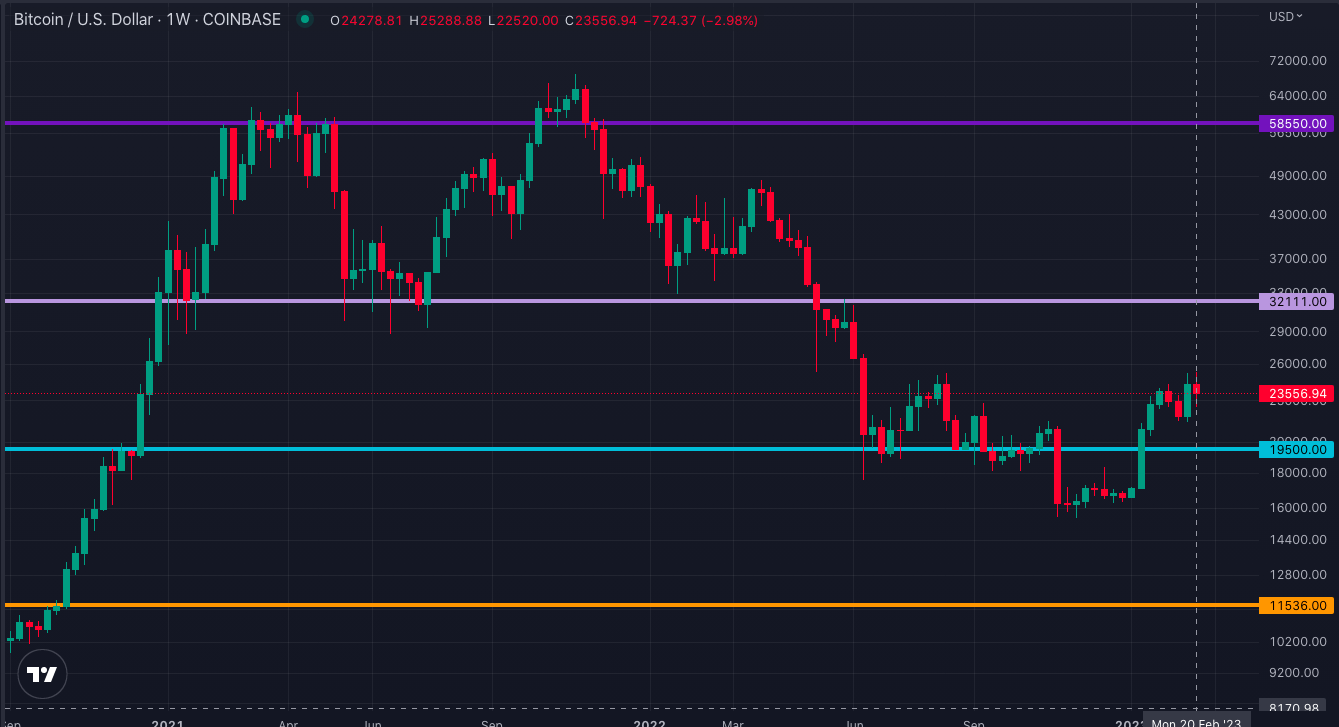 The emergence of new narratives in the crypto market is also a noteworthy development. The adoption of layer 2 scaling solutions like zkRollup on Ethereum could potentially improve transaction speeds and reduce costs, which could have a positive impact on the adoption of Ethereum-based projects. The recent developments in China have given rise to a new narrative in the crypto market, with a focus on "China coins" such as CFX, DOT, FIL, and PHB. Moreover, the introduction of the Ordinals Protocol, which enables the creation of Bitcoin NFTs, has also contributed to the rise of layer 2 Bitcoin solutions such as STX and RIF.
Our Strategies
The standout performer this month is Pennywell – our Green Crypto Selection, which employs a strategy of trading in high market capitalization coins (top 100 market cap coins). In the past 30 days, Pennywell's performance has exceeded 8%, buoyed by recent successes with coins such as SKL, FIL, NEAR, and VET, whereas Bitcoin has seen a 4.3% increase. On the other hand, Hereford – Bitcoin Protection, which trades solely in Bitcoin, is currently underperforming. The team is currently evaluating and making modifications to some of the bots powering the Hereford strategy to enhance its overall performance in the future.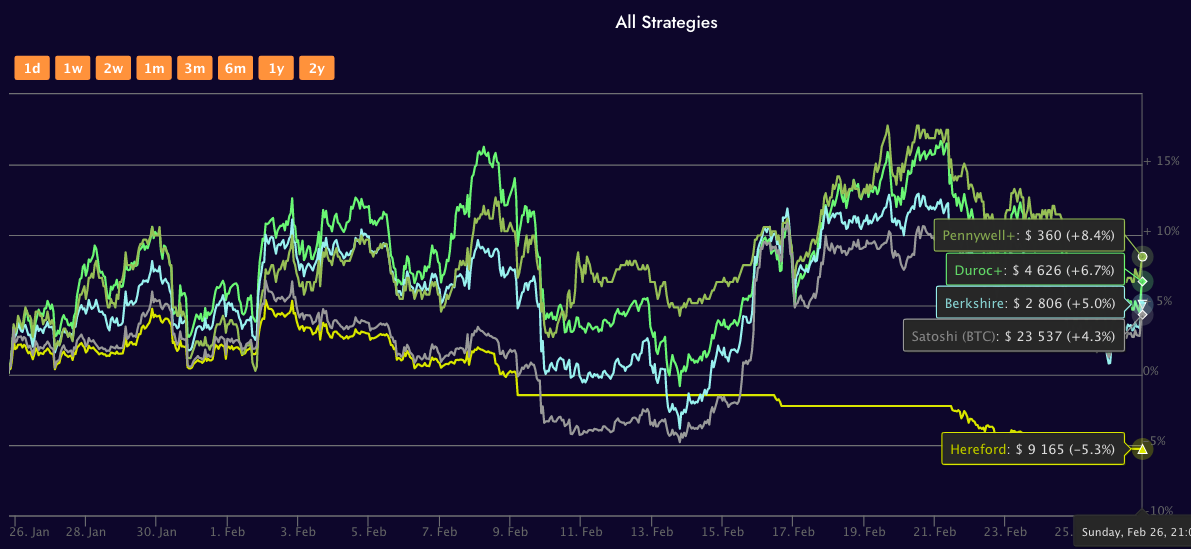 Automatic Collection of Your Monthly Invoicing
Starting February 1st, 2023, a limited number of users can now opt for automatic monthly invoicing collection. To access this feature, go to the "Billing" section in your dashboard at https://members.diamondpigs.com/billing and follow the steps to set up automatic collection using your credit card or iDeal debit card. If you're interested in this feature and it's not yet available on your dashboard, please send a request to info@diamondpigs.com, and it will be activated within 24 hours.
We plan to enable this feature for all users by the end of February.
Upcoming New Feature : "Exclude Your Favourite Coins"
Diamond Pigs will be introducing a new feature called "Exclude Your Favourite Coins" in the upcoming weeks. This feature allows you to create a list of specific coins in your wallet that you do not want Diamond Pigs to trade through. This will offer you greater flexibility to either hold or trade those coins outside of the Diamond Pigs strategy portfolio. However, it's important to note that an estimated minimum wallet value of 4K managed by Diamond Pigs will be required to utilise this feature. The exact amount will be communicated once the feature is officially launched.
Update – BUSD Situation
Following a thorough evaluation of the situation including consultation with our contacts at Binance, we have determined that it is currently appropriate to continue trading in the BUSD pair for our users who utilize the Binance exchange.

About Diamond Pigs
Diamond Pigs is a Dutch crypto wealth management platform that offers fully automated trading bots. Diamond Pigs collaborates with crypto exchanges to unburden crypto owners and allow them to achieve a higher return on their investment in crypto.
?Try our Play Mode here. Available with Bitvavo and Binance.