The Market – Never A Boring Moment
The financial sector is always full of surprises, making it an exciting market to follow. Last week's events had a significant impact on the crypto market. Silvergate bank, which served as a conduit for fiat currency in and out of most crypto exchanges, declared bankruptcy. This, coupled with the collapse of Silicon Valley Bank, resulted in a sharp decline of 25% to 30% in the crypto market over the weekend of March 10th.
Meanwhile, UBS is set to acquire Credit Suisse for $3.25 billion, and First Republic Bank may be taken over by JP Morgan or Morgan Stanley. With at least 20 regional banks in the US facing serious liquidity issues, there is a fear of a cascading effect.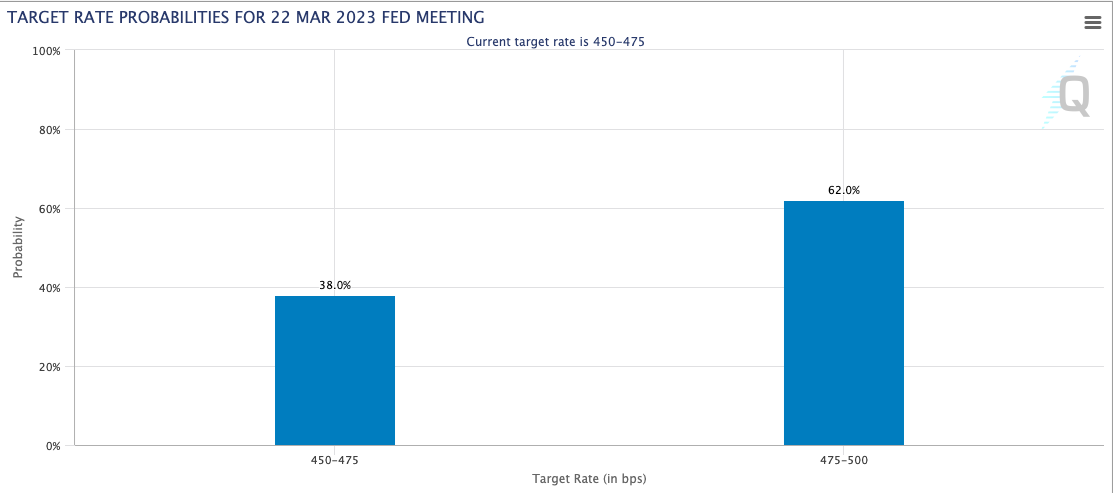 Despite the Federal Reserve hiking rates and reducing its balance sheet for almost a year, as soon as US banks require assistance, the Fed's balance sheet expands by around $300 billion in just 10 days. On March 22nd, Powell will either pause or increase interest rates by 25 bps.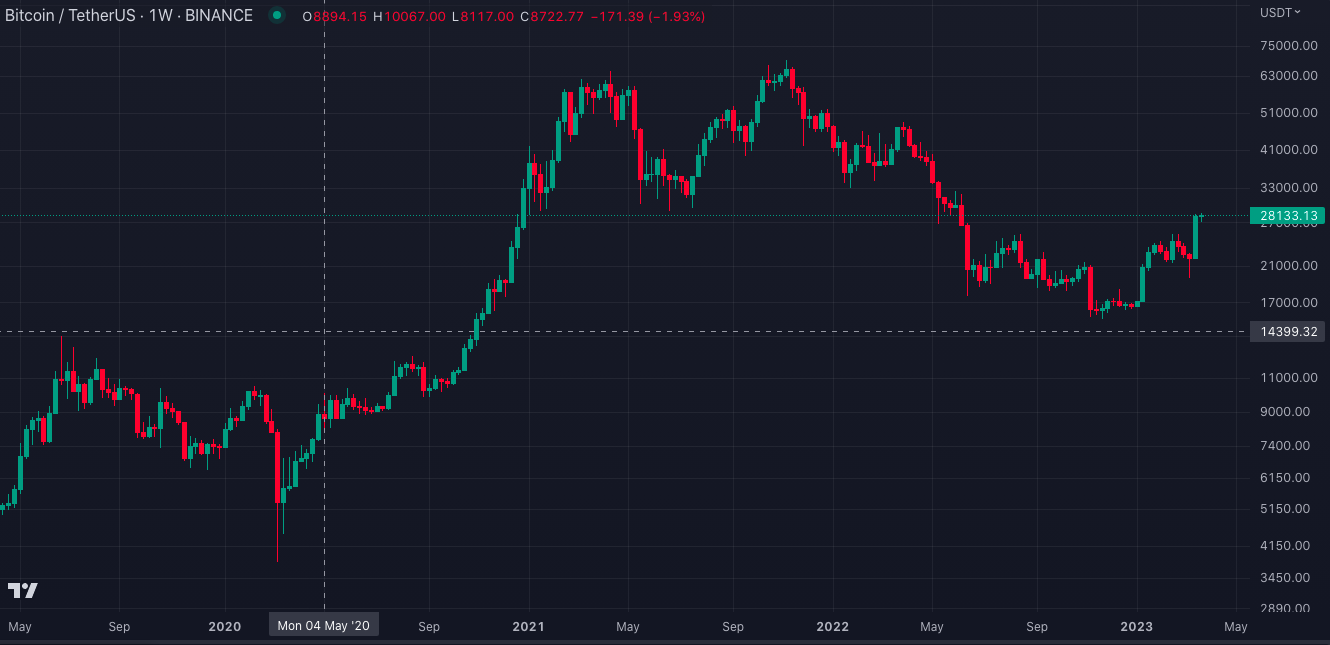 So far, Bitcoin has been the biggest beneficiary of the recent banking crisis and lower rate hiking expectations, with a remarkable 30% price increase since March 11th, reaching 28.2k at the time of writing. Its dominance in the market has also risen to almost 48%, a 5% increase compared to other crypto assets. This level of dominance has not been seen since June 22nd, following the Luna, Celsius, and 3AC black swan events.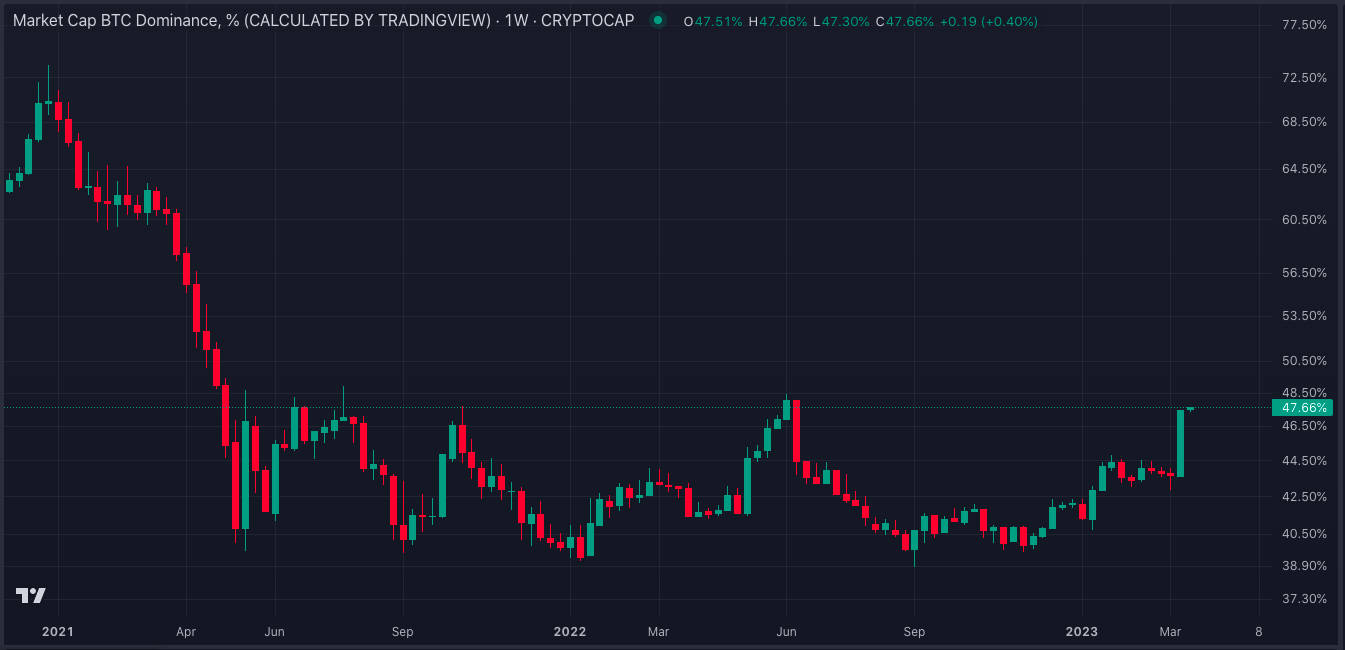 Our Strategies
Our active strategies have experienced a rough patch in the last two weeks. Even our top-performing bots, with a high number of winning trades, were not always quick enough to respond to sudden market spikes and reversals since March 10th. To counter this, we've incorporated faster bots with a greater tolerance for losses into all our active strategies.
In the past few weeks, some newly added fast bots, including STX, GMX, INJ, and IMX, have responded well to the recent high-volatility market conditions and have delivered excellent results. We are currently examining these bots to determine how we can potentially incorporate similar bot types to improve our current bots' portfolio.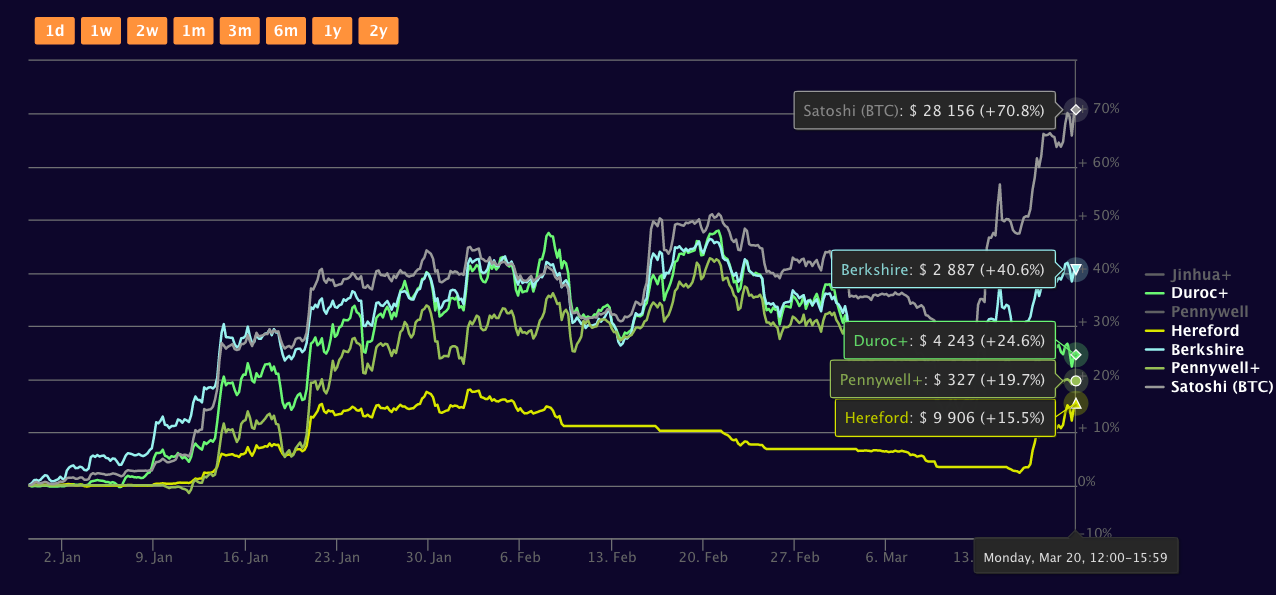 Since hitting its bottom on November 2022, Bitcoin has increased by +83%. Looking back, going long on Bitcoin would have been a wise strategy to follow. Additionally, the current high dominance of Bitcoin is negatively impacting the overall altcoin market. Typically, after a significant BTC run, altcoins begin to rise and outperform Bitcoin's price performance within a few weeks. These current market conditions, however, are exceptional, and the recent Bitcoin rally can be attributed to a shift in investors' mindset towards seeking a "safe haven" for their money, moving their assets out of banks and into both gold and Bitcoin. Nonetheless, if history repeats itself (as seen in March 2021, October 2021, and June 2022) and the Fed starts easing up again, providing more liquidity in the market, altcoins may reclaim their position in the market and show significant strength in the coming period.
The next few days will reveal whether the altcoin market will restart its bull run, decreasing BTC's dominance, or if BTC's dominance will remain high, and there will be no substantial bull run for altcoins.
New Feature: "Exclude Your Favourite Coins" – Looking For Beta Testers
Diamond Pigs is rolling out a new feature named "Exclude Your Favourite Coins," allowing you to create a list of specific coins in your wallet that you don't want Diamond Pigs to trade through. This will give you more flexibility to either hold or trade those coins outside of the Diamond Pigs strategy portfolio. We're currently seeking beta testers interested in using this feature, with a minimum wallet value of 4K to be managed by Diamond Pigs at all times. If you're interested in being a beta tester, please email info@diamondpigs.com, and we'll activate the feature and send you instructions on how to use it.
You can see this message and any related user comments on your dashboard here.
---
About Diamond Pigs
Diamond Pigs is a Dutch crypto wealth management platform that offers fully automated trading bots. Diamond Pigs collaborates with crypto exchanges to unburden crypto owners and allow them to achieve a higher return on their investment in crypto.
?Try our Play Mode here. Available with Bitvavo and Binance.