The Market
The financial market crisis in the US is ongoing, as more money continues to leave banks daily. Two commodity assets that are currently benefiting greatly from this crisis are gold and bitcoin. This shift may signal a return to the narrative of Bitcoin as a store of value. However, it is still too early to declare this, and it remains to be seen whether the deepening trouble in the traditional financial sector, coupled with ongoing macroeconomic uncertainty, will shift more investment toward Bitcoin and ensure that the upward trend in its price remains intact.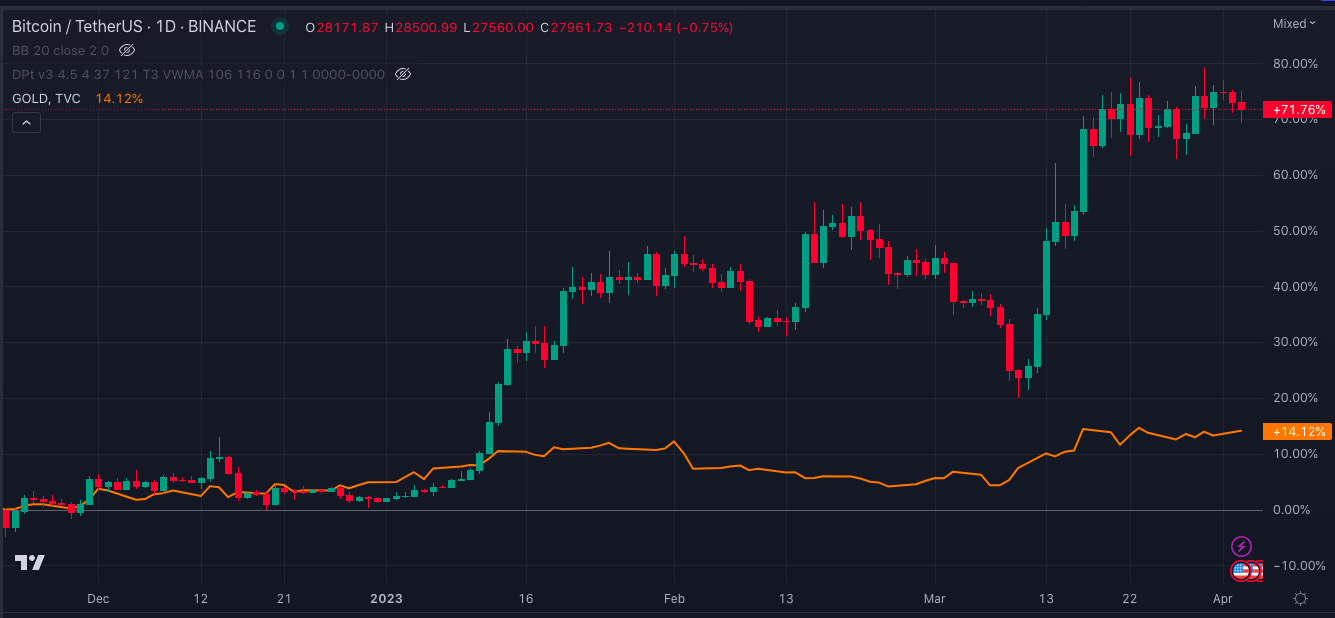 In the crypto market, last week saw Bitcoin reach a level of dominance (49.7% from the total crypto market) that hasn't been seen in almost a year, triggered by the bank crisis in the US which started the weekend of March 10th. However, it looks like this trend has hit a strong resistance level, and we can expect a trend reversal and a steady move toward altcoins. With the Ethereum Shanghai update scheduled for April 12th, we may see a flow towards Ethereum and coins in its ecosystem that offer liquid staking services (LDO, FXS), followed by the rest of the altcoin market.
The US Commodity Futures Trading Commission (CFTC) recently filed a lawsuit against Binance US and its CEO, alleging that the company conducts illegal futures trading and violates registration requirements. The impact of this news on Binance will depend on the outcome of the lawsuit and how the company responds to the allegations.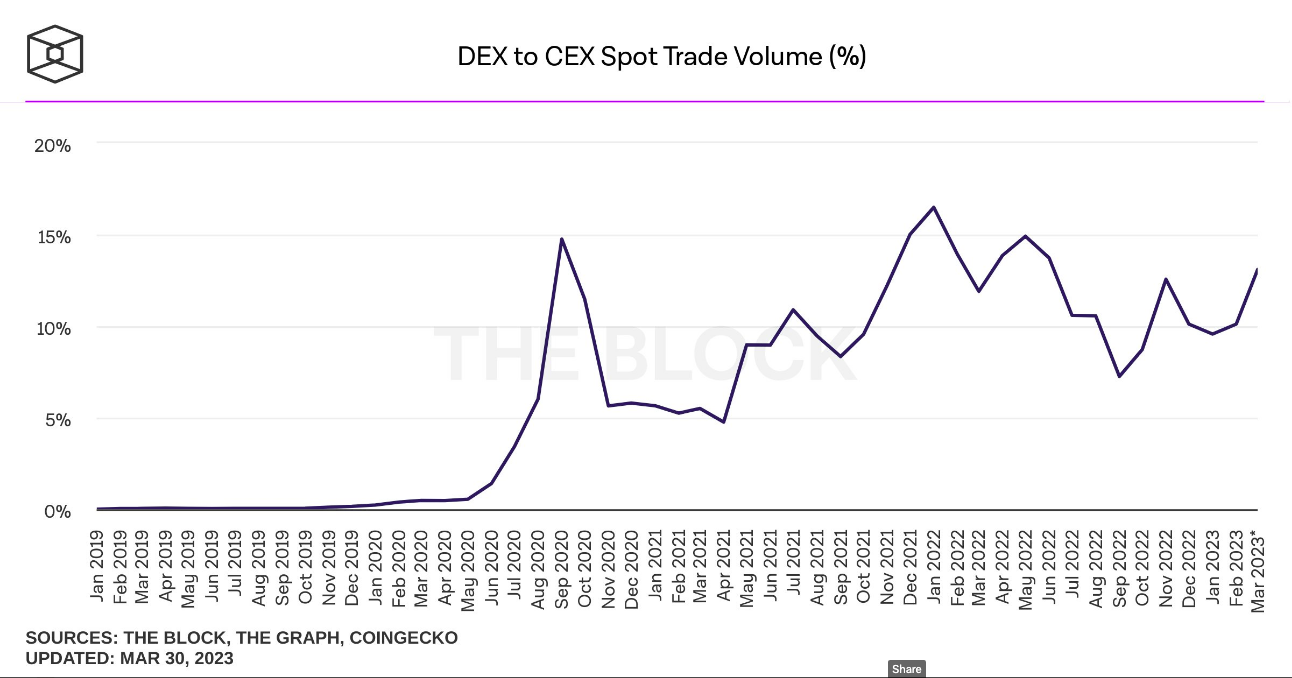 The trend of assets moving from centralized exchanges like Binance to decentralized exchange platforms (DEX) that started after the fall of FTX will likely accelerate in the near future as a result of the latest Binance scrutiny.
Our Strategies
The past three months have demonstrated just how complex it can be to trade in the current crypto climate. While the year started off fantastically for the entire crypto market, Bitcoin has had a strong run throughout the quarter, experiencing a 70% increase since January 1st, as it is once again perceived by some as a store of value. Meanwhile, altcoins, which are considered part of the risk-on assets, have suffered more from challenging macroeconomic conditions, including persistently high inflation figures in the US and the Federal Reserve's continuing hawkish approach. This, combined with Operation Choke Point 2.0 (OCP 2.0), a US effort to limit access to banking services for cryptocurrency companies and exchanges, has created liquidity issues for exchanges resulting in extreme price volatility mainly for small-cap coins.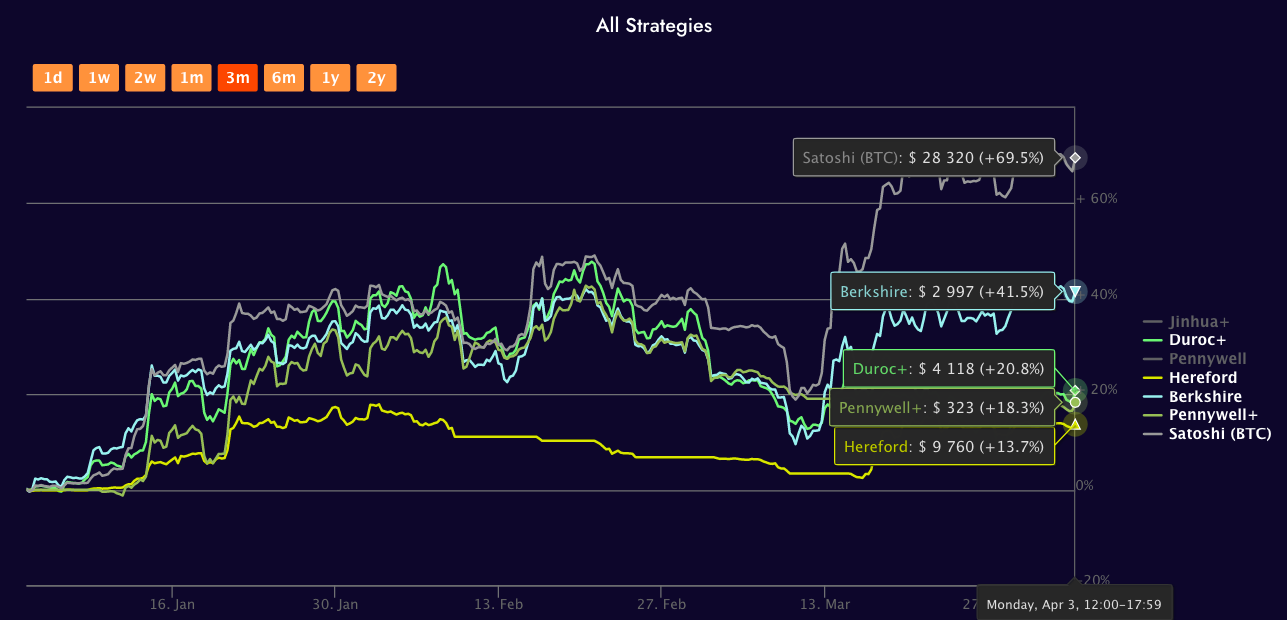 To succeed in this market and fulfill our promise of protection in bad times and growth in good times, we have taken the following steps in recent weeks:
We are (temporarily) only trading in coins with sufficient liquidity and have removed many small altcoins where the order book is too small.
Our trading activities will shift from executing trades with market orders to limit orders. We expect to fully trade with limit orders by the end of this month. The two main reasons to move to limit orders are:

Control over trade execution: With limit orders, we can control the exact price at which we enter or exit a trade. This can help our robots fill the trade at the intended price.
Avoidance of slippage: Slippage occurs when a trader enters or exits a trade at a different price than intended due to market volatility or lack of liquidity. By using limit orders, we will minimize the risk of slippage.

A set of fast and slower bots per coin, all with proven historical winning trade histories, has been implemented in all active strategies.
---

About Diamond Pigs
Diamond Pigs is a Dutch crypto wealth management platform that offers fully automated trading bots. Diamond Pigs collaborates with crypto exchanges to unburden crypto owners and allow them to achieve a higher return on their investment in crypto.
Try our Play Mode here. Available with Bitvavo and Binance.