September 28, 2023
In this blog post, we recap significant global market events, updates in the cryptocurrency landscape, and the latest news from Diamond Pigs.
Quick Takes
Despite global economic volatility and high interest rates, Diamond Pigs' strategies have demonstrated resilience, outperforming Bitcoin in the current quarter.
New Artificial Intelligence features in our SYNAPSE bot system aim to improve trading bot performance, keeping us at the forefront of innovation in the crypto-trading sector.
The Financial Market
Lately, there hasn't been much buzz in the global market. The Fed has indicated that ongoing inflation will likely result in prolonged high interest rates, possibly until mid-2024 or later. The latest FOMC meeting and the rising DXY (Dollar Index) have further signaled that risk-on assets, including cryptocurrencies, are less appealing at the moment. A bullish turn often aligns with a more dovish Fed policy and considering the broader economic landscape, we can expect more market turbulence ahead.
The Crypto Market
September is traditionally Bitcoin's worst-performing month, with an average 7% loss since 2013. However, this September looks slightly better as Bitcoin opened at $25,000 and is now close to $26,700. A recent uptick saw it reach a 20-day high of $27,500. Despite losing some value after the latest FOMC meeting, Bitcoin remains relatively stable, especially following MicroStrategy's recent $150 million investment.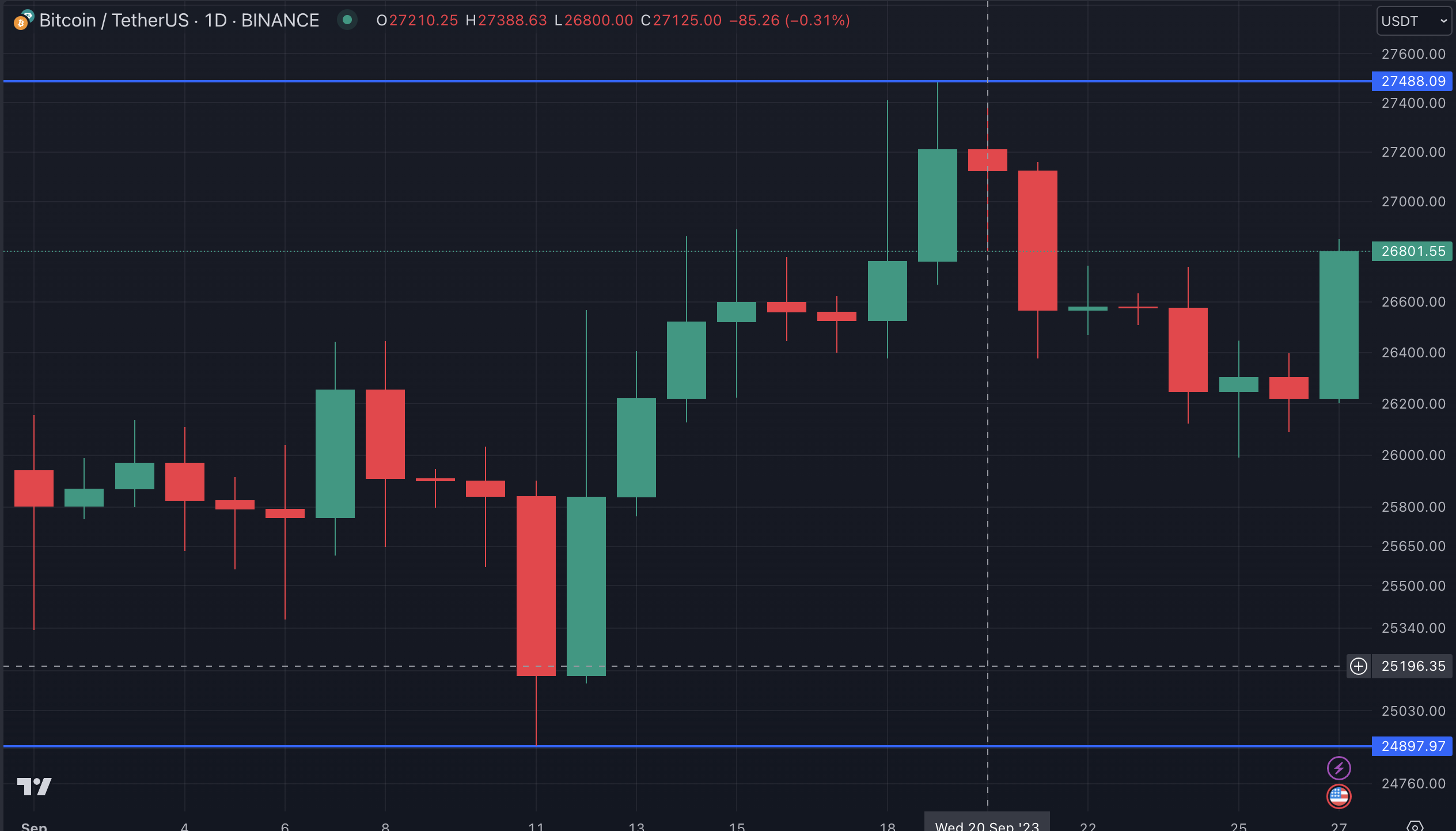 Is It the End of the Bear Market?
Last time, we delved into the Wall Street Cheat Sheet, theorizing that cryptocurrency has likely entered its 'Depression Phase,' the final stage before a potential bullish cycle. Importantly, the cryptocurrency market is often a leading indicator of economic changes. For instance, Bitcoin was quick to react negatively in November 2021 following a change in Federal Reserve policy, a move that was later mirrored by the NASDAQ. Similarly, should economic conditions take a positive turn, the cryptocurrency market is likely to be the first to signal a bullish shift.
Strategies
As we near the end of the quarter, it's a good moment to assess our strategies' performance relative to Bitcoin since the start of July. While Bitcoin has declined by 12.7%, our strategies have fared better, with performance varying between a -6.8% loss and a -11.3% loss. Recent profitable trades in altcoins like CVX, LINK, AAVE, and GMX underscore the resilience of our bots in the currently volatile market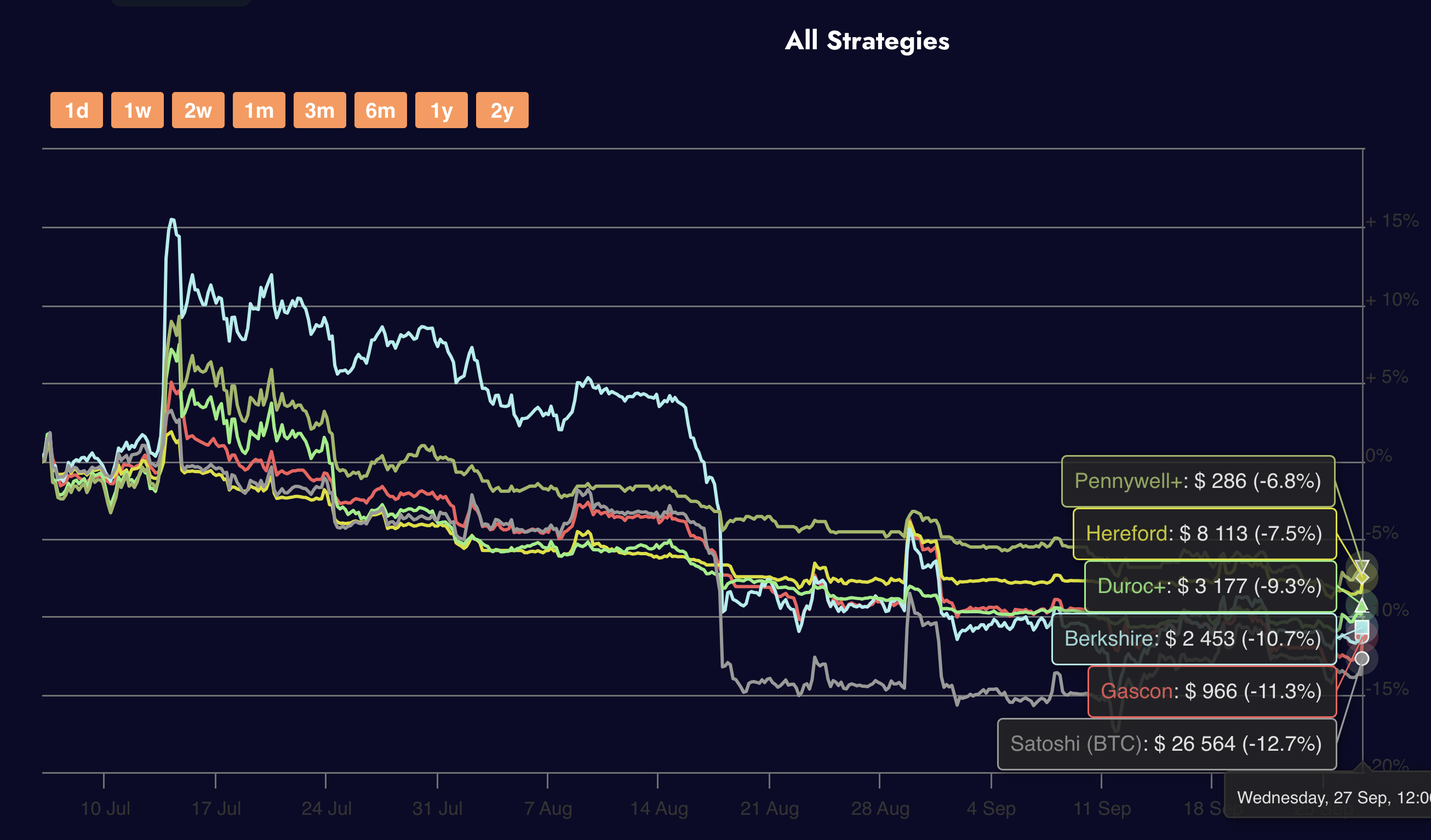 New AI Enhancements for Trading Strategies
This week, our team introduced the initial version of a new Artificial Intelligence feature within the SYNAPSE Factory that evaluates bots created for various cryptocurrencies. The primary goal is to support the decisions made by our team and preselect top-rated bots for incorporation into our various strategies. Next on our agenda is the rollout of an AI module designed to optimize each strategy's bot composition, fine-tuning the selection and weighting of individual bots to enhance performance."
In summary, despite facing global economic uncertainties and a less favorable market landscape, Diamond Pigs continues to adapt and innovate. Our strategies have demonstrated resilience under challenging conditions. With the recent launch of new AI features in our SYNAPSE Factory, and additional innovations on the horizon, we remain dedicated to further optimizing the investment outcomes of our active strategies.