June 28, 2023
Welcome to our biweekly newsletter, where we bring you a summary of the most significant events in the macroeconomy and the crypto space. We'll present the latest results of our strategies, along with the newest developments, releases, and other important news to share with our esteemed Diamond Pigs members.
The Market
The significant news in the past few days is that major investment firms in the US, namely BlackRock, WisdomTree, Valkyrie Investment, and Fidelity, have applied for a Bitcoin Spot ETF. Additionally, Federal Reserve Chair Jerome Powell stated that "crypto appears to have staying power as an asset class." Following these comments and BlackRock's filing for a spot Bitcoin ETF on June 15, Bitcoin volume surged significantly, quickly pushing the BTC price from lows of 25k back above 30k. Currently, it is trading at 30,200. BTC dominance also surged to above 51%, highlighting Bitcoin's strong performance compared to other crypto assets. The dominance currently stands at 51.70% and is likely to continue increasing if trends persist.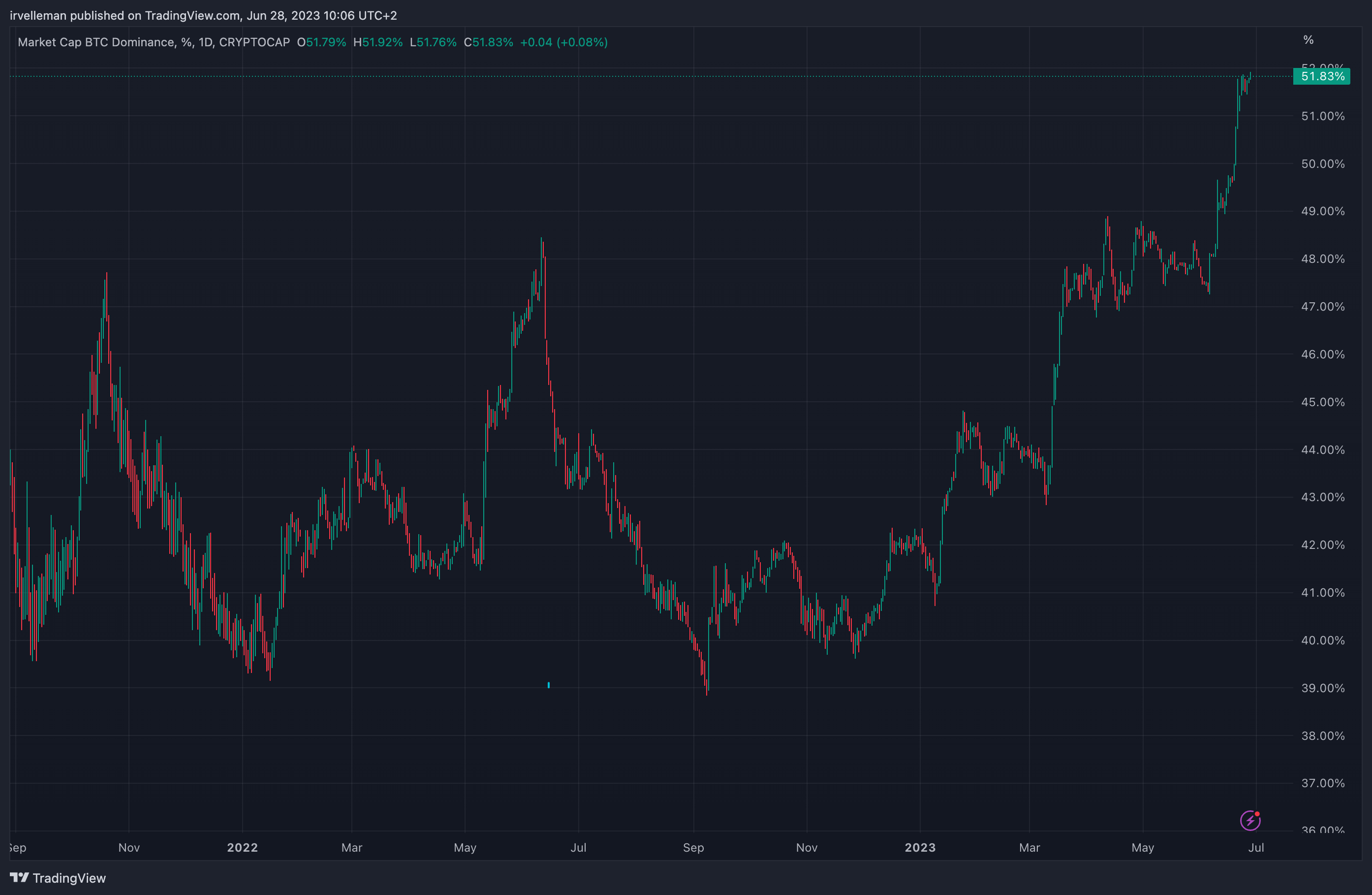 In other news, Germany's largest banking institution, Deutsche Bank, has reportedly applied for a digital asset custody license from the country's financial regulator, aiming to expand its revenue streams by entering the crypto space.
HSBC Hong Kong customers can now trade Bitcoin and Ethereum futures Exchange Traded Funds (ETFs), providing broader access to digital asset derivatives in the emerging Asia crypto hub.
Overall, it appears that momentum is returning to the crypto market, particularly for Bitcoin, as more traditional finance parties enter the space.
The strategies
Our active strategies have delivered modest but positive results, with gains ranging from 2% to 5%. Meanwhile, Bitcoin has experienced a remarkable surge of 20% over the past two weeks. In particular, our top 10 index strategy, Berkshire, which includes a 25% Bitcoin portfolio, has shown strong performance with a 10% gain during the same period.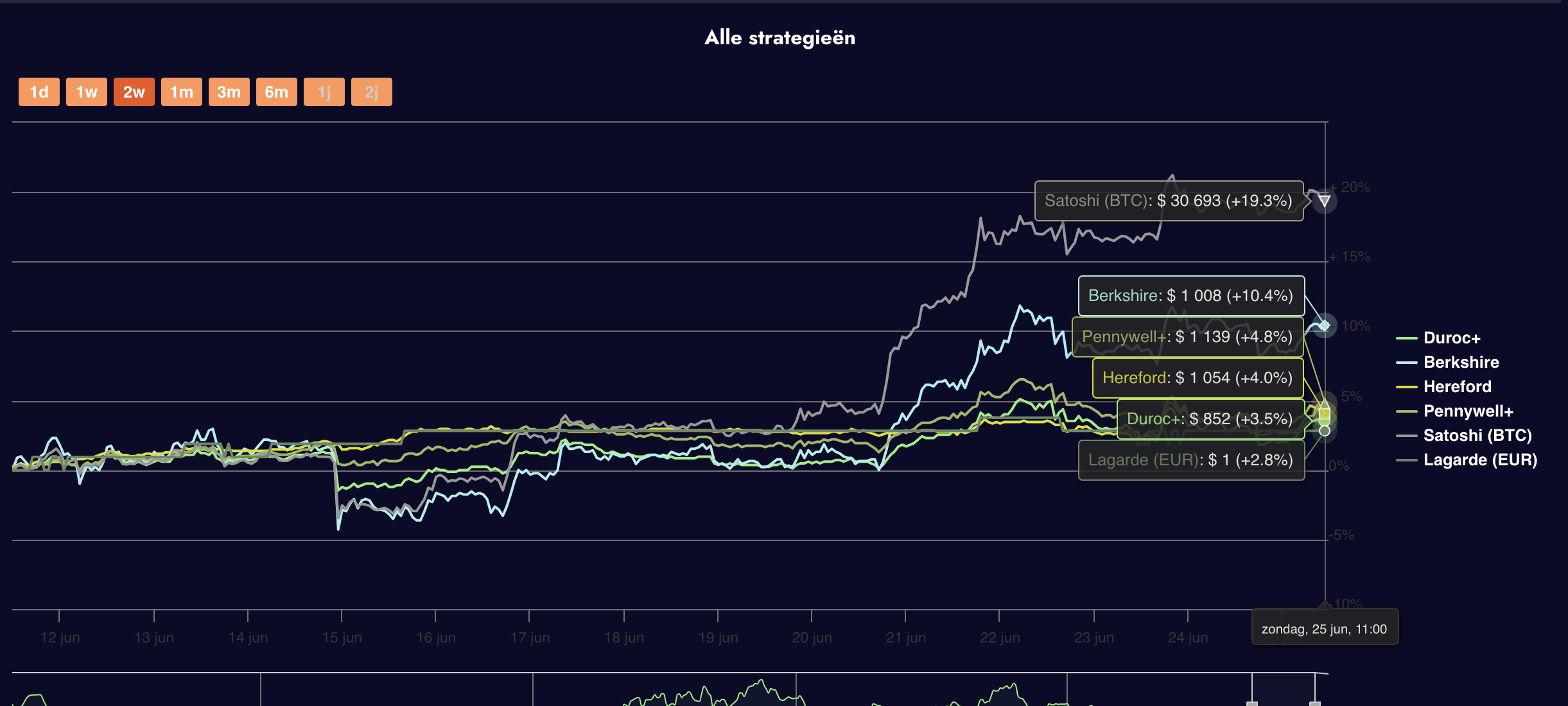 Based on our learnings from the past 1.5 years, our team has concluded that in the current market conditions, deploying additional bots in our active strategies ( Pennywell, Duroc, Hereford) that can respond rapidly to price movements is necessary to consistently achieve strong results. We are pleased to inform you that, after an extensive testing period, we are gradually introducing new types of bots that utilize momentum indicators, such as overbought and oversold signals, along with trading volume indicators, to enter and exit positions. These bots are designed to be highly responsive, enabling us to react fast on market opportunities.
To Binance customers
A few days ago, a separate explanatory email was sent to all users who are being forced to close their Binance accounts and are migrating to Bitvavo. The mail included this film that will guide you step by step on how to do the migration. In the past few days, our support team has gathered feedback from users attempting to migrate from Binance to Bitvavo, and it appears that some areas require a clearer explanation.
When you open a Bitvavo account, it is important to deposit some money, even a small amount of EUR 10. By doing so, you will receive an additional EUR 20 in cash from Bitvavo, and it will enable us to automatically display your Bitvavo BTC address on your Diamond Pigs dashboard.
Let's clarify the process of connecting the Bitvavo wallet and the Diamond Pigs account using an API connection step by step:
Create a new API: Start by generating a new API for the desired connection.
Note: When creating the API, you need to enable both the "View Information" and "Trade Digital Assets" buttons.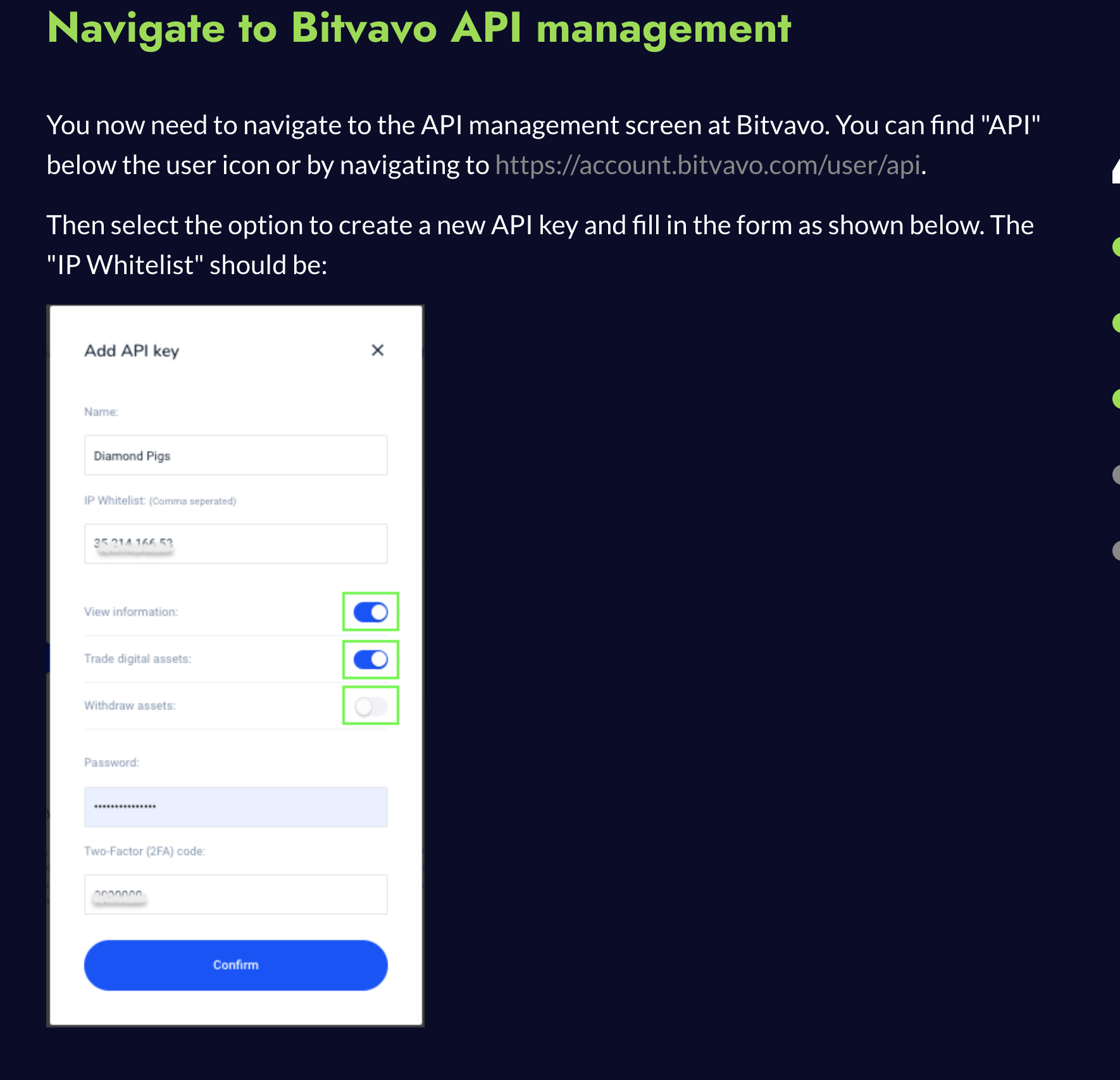 Copy and paste the newly generated API keys to the DP dashboard, following the provided instructions.
Before clicking the "TEST" button, it is crucial to confirm and validate the keys. To do this, verify the API you created on the Bitvavo dashboard by clicking on the pop-up window that says "I saved my API keys" and then click on the link provided by Bitvavo via email.
Once you have confirmed and validated the keys using the provided link, proceed to click the "TEST" button on the DP dashboard.
Two Additional Reminders:
For all users migrating from Binance to either Bitvavo or Huobi, we want to assure you that we will honor the High Water Mark level that was determined on the 1st of January 2022.
By the end of this month, we will no longer support the Binance Pay billing option.